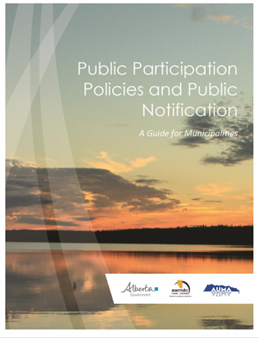 This Guidance Document is an educational tool, prepared by the Alberta Association of Municipal Districts and Counties (AAMDC) and the Alberta Urban Municipalities Association (AUMA), in partnership with Brownlee LLP, that contains general information intended to assist municipalities in developing a Public Participation Policy and Public Notification Bylaw. T
Public participation and engagement is key to informing decisions made by municipalities and as of October 2017, municipalities are required to develop a Public Participation Policy.
Public Participation Policies, as outlined in Section 216.1 of the Municipal Government Act, must be publicly available and must identify how municipalities will approach public participation and engagement. The policy must also identify the types or categories of approaches the municipality will use to engage municipal stakeholders, and the types or categories of circumstances in which the municipality will engage municipal stakeholders.
Though the legislative requirements are relatively broad, they have been developed with the recognition that Alberta's municipalities are diverse and have differing needs. As a result, municipalities have the flexibility to develop a public participation policy that best meets the needs of their residents and stakeholders. The attached Public Participation Policy Template has been developed to assist municipalities in this process but municipalities are encouraged to work with their residents and stakeholders to understand how they want to be engaged and involved in municipal decision making.