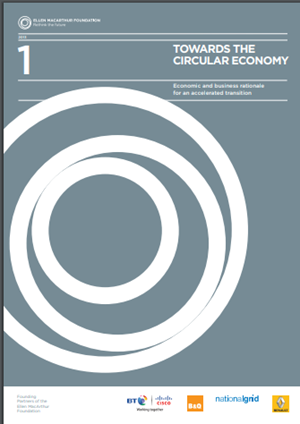 The Ellen MacArthur Foundation's report on the Economics of a Circular Economy invites readers to imagine an economy in which today's goods are tomorrow's resources, forming a virtuous cycle that fosters prosperity in a world of finite resources.
This change in perspective is important to address many of today's fundamental challenges. Traditional linear consumption patterns ('take-make-dispose') are coming up against constraints on the availability of resources. The challenges on the resource side are compounded by rising demand from the world's growing and increasingly affluent population. As a result, we are observing unsustainable overuse of resources, higher price levels, and more volatility in many markets.
Towards the Circular Economy, Volume 1: Economic and business rationale for an accelerated transition (2012)
Using product case studies and economy-wide analysis, this report details the potential for significant benefits across the EU. It argues that a subset of the EU manufacturing sector could realise net materials cost savings worth up to US 630 billion per annum towards 2025—stimulating economic activity in the areas of product development, remanufacturing, and refurbishment.
Towards the Circular Economy, Volume 2: Opportunities for the consumer goods sector (2013)
The report focuses on fast-moving consumer goods, which currently account for about 60% of total consumer spending, 35% of material inputs into the economy, and 75% of municipal waste. Importantly, the consumer goods sector absorbs more than 90% of our agricultural output – possibly our most embattled resource in the future.
Towards the Circular Economy Vol. 3: Accelerating the scale-up across global supply chains (2014)
Business leaders and governments both acknowledge that continued wealth generation requires a new industrial model less dependent on primary energy and materials inputs.
Towards the Circular Economy vol.3: accelerating the scale-up across global supply chains, is a collaboration between the World Economic Forum, the Ellen MacArthur Foundation and McKinsey & Company. The report aims to reconcile the goal of scaling a circular model with the reality of a global economy and complex multi-tier supply chains. It finds that over USD 1 trillion a year could be generated by 2025 for the global economy - and 100,000 new jobs created for the next five years if companies focused on encouraging the build-up of circular supply chains to increase the rate of recycling, reuse, and remanufacture.