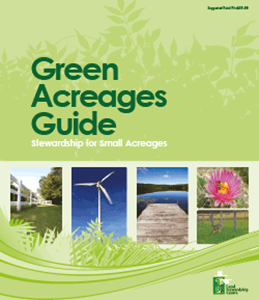 Ownership of small acreages, hobby farms and recreational properties is growing. Increasingly, these property owners are searching for information on how best to manage their properties in a sustainable manner. The Green Acreages Guide resources were developed especially for acreage, hobby farm and recreational property owners, to help them develop and implement stewardship practices that conserve and protect the valuable natural assets, such as air, land, water, wildlife, associated with their properties.
What's New
Resource extraction and development has been a large part of Alberta's economy for a long time. If you are living in rural Alberta, there is a good chance this type of development has or will take place near you. With support from our friends at the Alberta Real Estate Foundation and TD Friends of the Environment, we have added new content to the Primer and a brand-new chapter to the Workbook to ensure acreage owners have all the information they need if resource development and extraction is taking place near their property or in their community. Download the updated Primer for free and here's a sneak-peak at the new Resource Development and Extraction Chapter in the Workbook.
Grewal, A. et al. (2017). The green acreages guide primer: Stewardship for small acreages. Edmonton, AB: Land Stewardship Centre.
Purchase copies of the Green Acreages Guide Workbook (hardcover binder. 168 pages) for $35
The Green Acreages Guide Workbook will:
·         Increase acreage owners' knowledge of appropriate land and natural resource management practices.
·         Support acreage owners in completing a resource inventory and planning exercise and develop short and long‑term stewardship goals for their property.
·         Help acreage owners identify strategies to best manage the natural assets on their land.
·         Assist acreage owners to gain an awareness and understanding of relevant bylaws and regulations.
·         Provide acreage owners with additional stewardship resources and contact information.
Samples from the Green Acreage Guide Workbook
Table of Contents and Introduction
Chapter 2 – Things to Consider When Buying an Acreage or Rural Property (partial)
Chapter 3 – Property Evaluation and Goal Setting (partial)