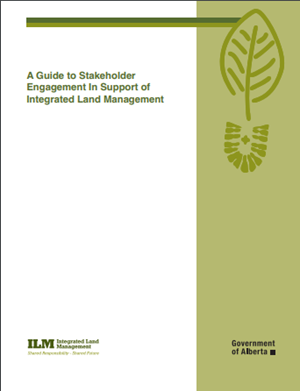 Alberta Environment and Parks (2010). A guide to stakeholder engagement in support of integrated land management. Government of Alberta.
Stakeholder engagement is an important part of Integrated Land Management (ILM). It can help provide information, gain understanding and build support leading to actions to reduce footprint on the landscape.
This guide is intended to build understanding of the need for stakeholder engagement and to provide tools (templates) for those designing and planning stakeholder engagement. The engagement process can be applied to reflect the sale and scope of any landscape-level activity.
This guide is not the only "stakeholder engagement" tool available. Readers are encouraged to review other sources.