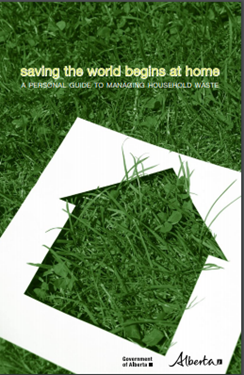 Saving the World Begins at Home: A personal guide to managing household waste
A guide to waste disposal, recycling and composting at home.
Landfills are difficult and costly to build and maintain. Few people want to have them close to where they live. Not only is pollution generated from transporting, treating and otherwise processing the waste we produce, there is also noise, litter, odour, pest, leachate, and methane gas. At the same time, the very land used for disposal destroys natural habitat and severely limits the use of the land for many generations – or longer! Alberta Environment is working to decrease the amount of material sent to landfills. You can contribute by reducing your garbage by one-third when you reduce, reuse and recycle resources.