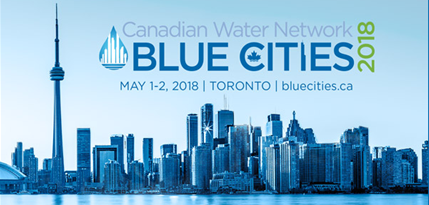 When:
Tuesday, May 1, 2018 - 8:00am

to

Wednesday, May 2, 2018 - 3:00pm
Cost:
EB1 $625, EB2 $725, Reg $875, Student $375, Non-profit $625
Contact:
Canadian Water Network 200 University Ave. W., Waterloo, ON, N2L 3G1 If you have any questions regarding the registration process please call Gail Meyer at (519) 888-4567 x36367 or send an email to conferences@cwn-rce.ca
Description:
Smarter Infrastructure Financing and Design
Climate change, urbanization, fluctuating demands due to economic swings and conservation… the only constant in a utility's future is change, with a large measure of uncertainty. What infrastructure do we need? What's achievable? And how do we pay for it?
Working Smarter with Customers
Customer intelligence is the process of gathering and analyzing information on customer needs, attitudes and actions. How can we leverage this understanding and build effective partnerships with customers? Take away research insights, success stories and a few hard-won lessons.
Water as a Core Component of Smart City Design
How do we design cities with water in mind? Where are the opportunities to collaborate with other stakeholders and improve resiliency? Let's look at the bigger picture and consider the integration of water into broader urban design.
Smarter Ways to Innovate
Get ready to think outside the pipe! This session will highlight the technologies, processes and management techniques that are transforming municipal water systems. Large or small, one-time or continuous – what can be implemented now or in the near future?
Check back regularly for program and speaker updates.