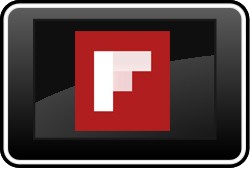 Some days it seems that keeping up-to-date on the news, stories, conversations and commentary in the land use sector is like a full-time job. There are hundreds of environmental, economic and social issues and opportunities that are part of the mix. We have unimaginable access to diverse sources of information but are now overwhelmed by the growing number of sites, webpages, blogs and news feeds that we have to monitor.
The Land-use Knowledge Network has developed a new solution to help you stay on top of it all - follow us on Flipboard!
What is Flipboard?
Using FLIPBOARD - a free app for your Apple or Android device - we have brought together thousands of links and news feeds into one location.  Flipboard is a free "personalized magazine". It allows you to identify topics of interest and have the app automatically link to present these stories and resources to you. It features a great user interface and presents information in an easy-to-read, attractive format.
The LuKN Flipboard page is free. You can quickly browse through the stories that are continuously updated and, if something catches your eye, you can instantly click and read the full story and gain more in-depth insights. These links cover Alberta, Canada and beyond.
The How-To:
Download the Flipboard app on your smartphone or tablet.
On the page you will see a number of squares, including one labelled "More>". Click on this and it will open up a content menu. This is where you can identify your areas of interest. In the search bar at the top, type in "LanduseKN". Several links will be offered. Click on the one that says "twitter feed".
To confirm and save your choice click "+ Add" at the top of the page.
Enjoy your continuously updated land-use information resource.
Try our Flipboard page. Those of us who have been developing, testing and using the tool over the past few weeks are now addicted to it. It is the most convenient way for you to keep up-to-date on the complex and dynamic world of land use planning and management.
As always, we are interested in hearing from users what they want to see more of - so let us know what links and articles are of most interest to you so we can keep our Flipboard content - and our website - relevant.