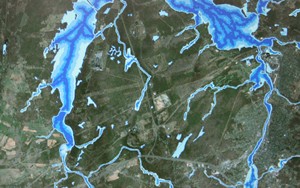 Jae Ogilvie provides a definitive description of Alberta's wet area mapping research and the development and opportunities from Canada's largest wet area mapping dataset. This series of videos cover an hour long lecture, given by Jae Ogilvie, Friday, April 11, 2014 at the University of Alberta, Edmonton, Alberta. The lecture was sponsored by Alberta Environment and Sustainable Resource Development.
Alberta's award winning wet areas mapping initiative currently spans some 25 million hectares.  While the initial purpose of the output was to enhance the sustainability of forest operations there is considerable interest in exploring the value of model outputs to explain observations in stand growth and composition.  Jae Ogilvie presents a technical overview of the wet areas mapping methodology employed in Alberta and discusses the various model outputs and their uses.  He also describes technical challenges and solutions related to the processing of large volumes of LiDAR data, DEM surface conditioning and LiDAR feature extraction for the purposes of wet areas mapping. Opportunities of the wet areas mapping go well beyond forestry operations and every practitioner involved in natural resource management in Alberta should be aware of the interpretive power of wet areas mapping datasets.
 
Jae Ogilvie is a Lecturer and part-time graduate student within the Faculty of Forestry and Environmental Management at the University of New Brunswick working in the Forest Watershed Research Centre under the supervision of Dr. Paul Arp. His main area of interest involves the exploitation of LiDAR (Light Detection And Ranging) datasets for fusion and integration with other remotely sensed data, for the enhancement of GIS-based forest process models.  He is the primary developer in charge of the continued improvement of UNB's wet areas mapping model.  Jae has been working closely with Alberta Environment and Sustainable Resource Development since 2006 in support of Alberta's wet areas mapping initiative.