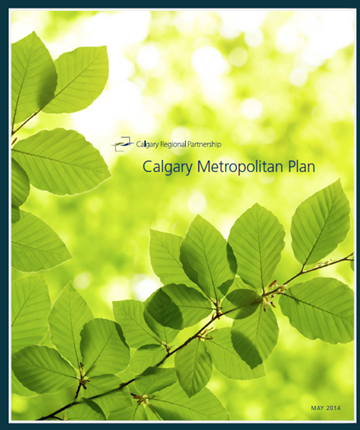 Calgary Regional Partnership vision: We are working together to live in balance with a healthy environment in enriched communities, with sustainable infrastructure and a prosperous economy.
The Calgary Metropolitan Plan (2014) represents a cooperative effort among the member municipalities of the Calgary Regional Partnership (CRP). The role of the Plan is to provide a guide for sustainable development within a region that is experiencing rapid, robust growth. The Plan's key strategies address developmental and environmental objectives while considering necessary governance and servicing arrangements.
The original CMP was approved in 2009, as CRP members recognized that the traditional approach to managing growth was neither sustainable nor efficient. In 2012, the Plan has undergone an update that addresses emerging realities and incorporates the input and direction of member municipalities, as well as feedback from the Province.
The CMP reflects the desire of member municipalities to collaborate on sustainable and manageable growth within the region. The Plan's compact settlement pattern will result in a 70 per cent reduction in the amount of land required to accommodate new growth over the long term in the Calgary Region.
Moving Forward Together: 2015-2016 Strategic Plan (2014)  This Strategic Plan will help prepare Calgary Region municipalities for prosperous and sustainable growth under the principles of the Calgary Metropolitan Plan.
Supporting Documents and Reports
Calgary Regional Partnership 2013-2014 Budget overview video
GEOGRAPHIC INFORMATIONS SYSTEMS (GIS)
REGIONAL SERVICING AND CALGARY METROPOLITAN PLAN IMPLEMENTATION