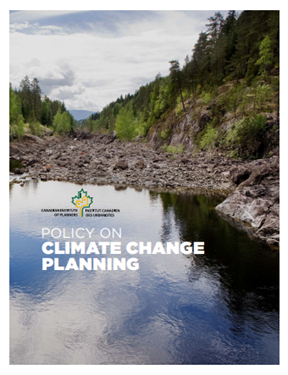 Canadian Institute of Planners: Policy on Climate Change Planning
The Canadian Institute of Planners (CIP) recognizes that climate change planning (or, more accurately, climate change-informed planning) is the domain of all planners, including those working on energy, land-use, transportation, infrastructure, and community planning. Reducing emissions and preparing for the unavoidable impacts of climate change requires a drastic shift in the way our communities are built and function. Climate change planning includes the mitigation of future climate change, primarily by reducing greenhouse gas emissions, adaptation to existing and projected environmental changes, and disaster risk reduction measures.
Climate change-informed planning must balance multiple – and sometimes competing – considerations. Interventions must avoid burdening already vulnerable populations, such as Indigenous people, the young and elderly, and those living in resource-dependent communities and remote areas. Actions taken to mitigate climate change may come into conflict with adaptation measures and addressing different climate-related risks may entail seemingly contradictory solutions. The complexity and breadth of climate change requires an integrated and collaborative approach. Planners are uniquely positioned to bring together officials, citizens, and allied professions in a program of careful, equity-oriented planning.
CIP envisions a future in which Canadian communities are planned, designed, developed, and managed to contribute to climate stability and to be more resilient in the face of unavoidable changes in the climate, and in the process, to become more liveable, prosperous, and equitable.