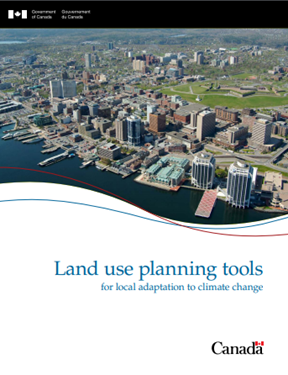 Government of Canada: Land Use Planning Tools for Local Adaptation to Climate Change
Authors: Gregory R.A. Richardson, Climate Change Impacts and Adaptation Division, Natural Resources Canada and José Otero, School of Urban Planning, McGill University
Local governments in Canada can manage the risks and opportunities presented by climate through a variety of practices, including adoption and enforcement of bylaws; collection of taxes and user fees; operation of transportation, utilities and other public infrastructure; establishment of subsidies, tax credits and other incentive programs; administration of emergency management and response systems; and public outreach and education initiatives.
Land use planning is one of the most effective processes to facilitate local adaptation to climate change.3,4 Historically, local governments have used land use planning tools – official plans, zoning, development permits and others – to minimize risks to communities from floods, wildfires, landslides and other natural hazards.5 As the climate changes, so will the frequency and magnitude of climate-related hazards, posing a challenge for community planners. A recent survey by the Canadian Institute of Planners confirmed that "planners gravitate to tools they know best and are looking for ways to adapt known tools when addressing climate change."
Richardson, G.R.A. and Otero, J. (2012). Land use planning tools for local adaptation to climate change. Ottawa, ON.: Government of Canada, 38 p.