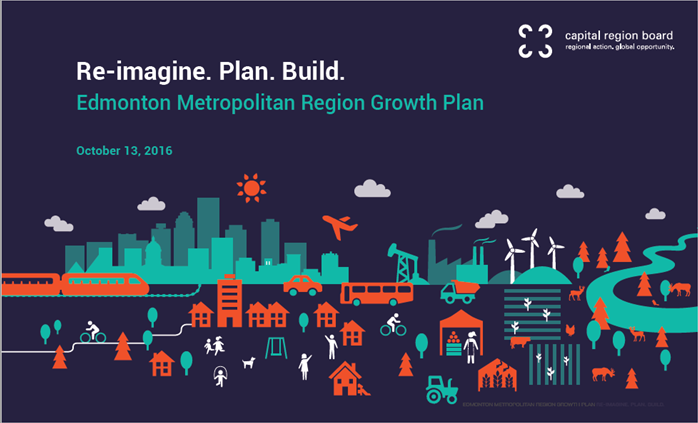 Re-imagine. Plan. Build
Edmonton Metropolitan Region Growth Plan
October 13, 2016
The Edmonton Metropolitan Region Growth Plan (the "Plan") adopts this spirit and sets an innovative path to plan growth across the Region in a responsible manner that sustains and advances regional prosperity and well being. This Plan provides a substantive update to the 2010 Capital Region Board Growth Plan and builds on the Plan's successes, while recognizing the Region's diverse rural and urban context.
This Plan focuses on the Region's strengths and competitive advantages. It adopts a forward looking approach to addressing challenges today to strongly position the Region over the next three decades, and to advancing the Region's global economic competitiveness based on leveraging its key economic assets and competitive advantages. Addressing the challenges of the future means planning for and managing growth with different tools and strategies to maintain the Region's high quality of life and economic prosperity.
By 2044, it is anticipated that the Region will be home to 2.2 million people and 1.2 million jobs. The doubling of the population is a significant transformation that will result in a complex metropolitan region requiring deliberate and determined collaboration and leadership.
This Growth Plan provides a compelling vision, guiding principles and six interrelated regional policy areas to guide growth and development over the next 30 years. It recognizes the symbiotic and integrated nature of growth.
Schedules and Tables to support the Plan
Presentation to the Governemnt of Alberta (2017) by the Capital Region Board.
Background and Summary Documents that were presented at the February 8, 2017 meeting with the Cabinet Ministers
The 2016 Plan is still pending approval from the Provincial Government. The current approved plan is the 2010 plan entitled Growing Forward: The Capital Region Growth Plan (2009).