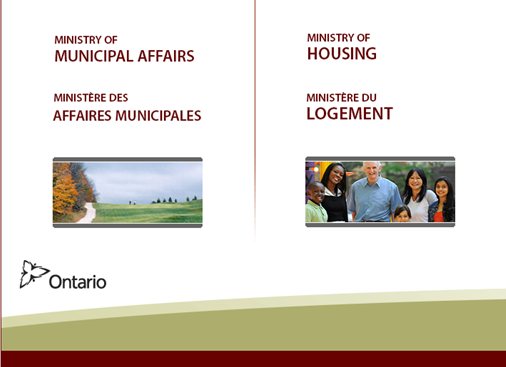 Land Use Planning in Ontario
Well-designed, well-planned communities attract jobs and investment. Ontario's land use planning system gives municipalities the major role in planning decisions. The ministry identifies and protects provincial interests, and promotes sound infrastructure planning, environmental protection, economic development and safe communities.
Co-ordinated Land Use Planning Review
The four provincial land use plans for the Greater Golden Horseshoe work together to manage growth, protect the natural environment and support economic development. The updated plans were released on May 18, 2017.
To support municipalities, the province has committed this year to:
Provide information sessions for municipal staff and stakeholders to familiarize them with the updated plans and explain how they will be implemented
Identify and map a region-wide natural heritage system 
Collaborate with stakeholders to develop an agricultural system that supports the viability of the agri-food sector and consistently protects farmland across the Greater Golden Horseshoe
Develop a standard land needs assessment methodology
Develop guidance on watershed planning and on addressing climate change
The Smart Growth for Our Communities Act, 2015 (Bill 73)
The Smart Growth for Our Communities Act, 2015 (Bill 73) received Royal Assent on December 3, 2015. 
Ontario's changes to the Planning Act and the Development Charges Act are intended to provide for enhanced tools and processes for communities and residents to determine how their neighbourhoods grow, and to plan and pay for growth. The legislation also aims to help municipalities recover more costs for growth-related infrastructure, give residents more say in how their communities grow, protect and promote greenspaces, enhance transparency and accountability, set clearer rules for land use planning, give municipalities more independence to make local decisions and make it easier to resolve disputes.
Support materials have been designed to assist users with understanding the changes to the planning system introduced by the Smart Growth for Our Communities Act, 2015 (Bill 73) and its associated Regulations.
Land Use Planning Resources
The Government of Ontario provides resources grouped into topic areas and are of various types: case studies, guides, guidelines, information, legislation, plans and tools.
Accessibility
| Type | Link to Resource |
| --- | --- |
| Handbook | |
| Infosheet | |
Agriculture
Appeals and Mediation
Clean Air, Energy Conservation and Renewable Energy
| Type | Link to Resource |
| --- | --- |
| Information | |
| Legislation | |
| Information | |
| Information | |
Cultural Heritage and Archaeology
| Type | Link to Resource |
| --- | --- |
| Information | |
| Information | |
Environmental Assessment
| Type | Link to Resource |
| --- | --- |
| Legislation | |
General Information
| Type | Link to Resource |
| --- | --- |
| Guide | |
| Information | |
Mining, Minerals and Aggregates
| Type | Link to Resource |
| --- | --- |
| Legislation | |
| Tools | |
| Legislation | |
Municipal Planning
Natural Heritage, Endangered Species and Wild Life Habitat
| Type | Link to Resource |
| --- | --- |
| Legislation | |
| Guide  | |
| Guide  | |
Provincial Plans
Transportation
| Type | Link to Resource |
| --- | --- |
| Guidelines | |
| Guidelines | |
| Guidelines | |
| Legislation | |
Water
| Type | Link to Resource |
| --- | --- |
| Legislation | |
| Legislation | |
| Legislation | |
| Legislation | |