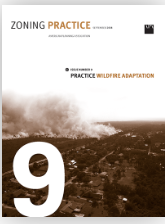 Read, A. & Mowery, M. (2018). Zoning and land-use tools in the wildland-urban interface. American Planning Association
This edition of Zoning Practice discusses how key characteristics of development in the WUI influence wildfire risk, and it highlights a range of land-use and development regulations that affect the extent, design, and ultimate safety of WUI development. These regulatory tools include zoning overlays, transfer of development rights, WUI codes, subdivision controls, defensible space regulations, landscaping standards, use-specific standards, and code enforcement.
To access this document, you will need to create a free APA account.