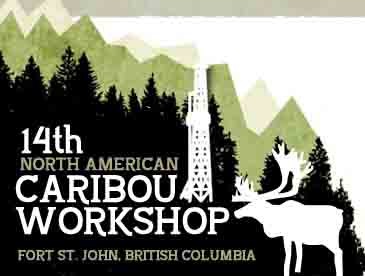 The 14th North American Caribou Workshop was held September 26-28 2012 in Fort St. John BC. This year's theme was Caribou in Managed Landscapes, and reflects the unique challenges facing caribou in multi-use landscapes across Canada.
The Alberta Land-use Knowledge Network is pleased to provide videos of many presenters from the Workshop, as a means of sharing information to those unable to attend. You can also view posters from the Workshop's Poster Sessions here.  Full abstracts for all presentations can be found in this Conference Program.
Videos
Chief Roland Willson - "I want to eat caribou before I die: First Nations perspectives on caribou conservation and management."  View video.
Designatable Unit Session - Conserving caribou across Canada: Current challenges and future activities
Aboriginal Knowledge, Genetics & Nutrition
George Guanish - "Naskapi observations of the impacts of climatic and socio-environmental changes on the caribou in the Canadian subarctic and identification of priority adaptation strategies."  View video.
John Cook - "The potential importance of nutrition in habitat conservation programs for caribou."  View video.
Jonah Keim - "Nutritional mechanism impairs caribou pregnancy in the Alberta oil sands."  View video.
Habitat Selection, Use and Impacts
Predator and Prey Dynamics
More to come....